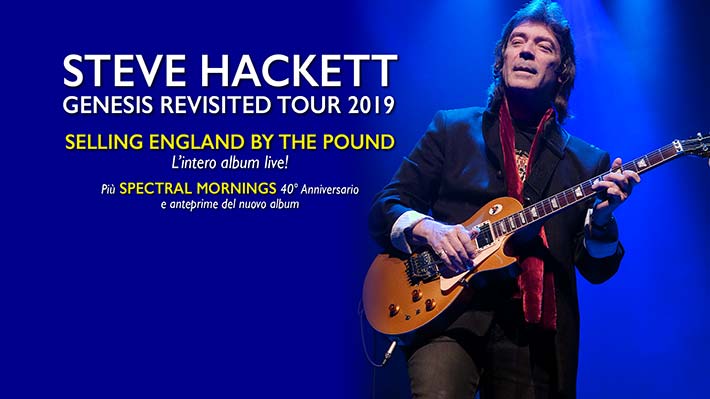 Tuesday July 16
San Valentino Live Park, Pordenone, Italy
STEVE HACKETT, legendary ex-guitarist of Genesis, between reinterpretations and new songs, will be the absolute star of the evening on Tuesday, July 16 at Parco San Valentino. He will perform "Selling England by the Pound" in its entirety, some selected songs from "Spectral Mornings" – in the year of its 40th anniversary, as well as the timeless classics of Genesis and the songs of the new album.
«I am thrilled to present in full what is my favourite of all Genesis albums, "Selling England By The Pound"», explains Hackett. «When it came out in 1973, it immediately caught John Lennon's attention. At that moment I heard that I was playing guitar in the best band in the world and that they were opening their doors for us. I am also happy to play tracks from "Spectral Mornings", celebrating its 40th anniversary, to present some samples of the new album and some of the gems of the unforgettable Genesis repertoire … it will be a fantastic concert!».
Steve Hackett will be joined on the stage by exceptional musicians: Roger King (Gary Moore, The Mute Gods) on the keyboards; Craig Blundell (Steven Wilson) on drums, percussion and vocal; Rob Townsend (Bill Bruford) on sax, flute and percussion; Jonas Reingold (The Flower Kings) on bass and guitar; Nad Sylvan (Agents of Mercy) on vocals.
Door opening and street food: 6:00 PM
Start Second Live Stage: 7:00 PM
Main Stage: 9:00 PM
? Vorverkauf Österreich
? Predprodaja v Sloveniji
? Pretprodaja Hrvatske