2017 Edition [English]
"Fall in love with Pordenone" is the slogan for the Pordenone Blues Festival which, for this year's edition, will feature a number of new events and will involve the entire city.
Between 17 and 23 July 2017, and from morning to night in the central section of the city, you can get a taste of the blues with concerts, exhibitions, film screenings, conferences, readings, stage events, contests.
You can enjoy a variety of "musical wines" and get a taste of some of our delicious local dishes.
It's a great chance to feel the blues that have always been a part of you.
Pordenone for a Holiday
Take a holiday in Pordenone for the Blues Festival
Do you love music and enjoy unusual holidays? Come to Pordenone and discover a city dedicated to blues music where you can immerse yourself in a magical atmosphere! Between 17 and 23 July, the 26th Pordenone Blues Festival will organize more than 40 shows and more than 40 special events for grown-ups and children alike. A varied and highly-original programme of events which, together with Pordenone's unique geographical position (a stone's throw from the beach and the mountains, and very close to attractions such as Venice, the Friulian Dolomites – a UNESCO World Heritage site – and Aquileia) add up to the ideal place to spend a wonderful holiday. If you choose to stay in one of the selected hotels, the daily excursions are completely free of charge. And if you are a sports enthusiast, you can get free admission into swimming-pools, gyms and even yoga lessons.
You can look forward to a great week of blues combined with relaxation and lots of fun!
Info hotels: Consorzio Pordenone Turismo: 0039-0434-549427/422 Fax 0039-0434.541865 – info@pordenoneturismo.it
Events planned for the week-long Festival:
From Monday 17 to Saturday 22 July
From 9:30 to 19:00
Free admittance
Blues Buskers
For the whole week, "Blues Street Musicians" from all over Italy and many from abroad will play free of charge in the squares and the streets of the city.
From Tuesday 18 to Sunday 23 July
Monday 17: Starts 19:00/21:30;
Tuesday 18 – Wednesday – 19 – Friday 21: Starts 10:00/13:30 – 15:00/22.00;
Thursday 20: Starts 10:00/13:30 – 14:30/23:00;
Saturday 22: Starts 10:00 and continues without interruption until 21:00
Vintage Fender Museum
The world's greatest travelling museum of fender guitars comes to Pordenone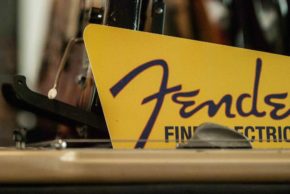 As far back as 1950, first electric guitar was put on sale in a musical instruments shop: it marked the beginning of the modern music era. Its inventor was the revolutionary Leo Fender, the founder of the historical Fender guitar company in California. His ground-breaking idea was to create instruments which were simple and practical, and available to all musicians. Synonymous with quality, eclectic design and hand-crafted quality, the Fender factory quickly became the world leader in music, building superb instruments many of which are still in use: Fender produced the first electric guitar and the first electric bass in history. The Fender Museum traces the golden era of the Fender Company, exhibiting electrical instruments and amplifiers built between 1951 and 1974, when the company was sold to another organization. Catalogues, posters, documents, memorabilia and original photographs from the era give the Fender Vintage Museum a special interest. It is a not-to-be-missed voyage through the history of music that will attract all music-lovers, a voyage whose the colours, smell, vibrations and emotions will be felt even with the eyes closed.
Private collection of Flavio Camorani and Michela Taioli.
Free admittance.
From Tuesday 18 to Sunday 23 July
The Vinyl Era, You'll Never Leave!!
Tuesday 18 – Wednesday – 19 – Friday 21: Starts 10:00/13:30 – 15:00/22.00;
Thursday 20: Starts 10:00/13:30 – 14:30/23:00;
Saturday 22: Starts 10:00 and continues without interruption until 21:00
Exhibition of original vinyl records, autographed by some of the greatest musicians of all time.
Free admittance.
Monday 17 July
Teatro Comunale Giuseppe Verdi, Viale Martelli 2 – Pordenone
Starts 20:15
Steve Winwood (UK) in concert
Winner of two Grammy Awards, multi-instrumentalist Steve Winwood is a rock icon with a truly unique voice, and is a member of the Rock And Roll Hall Of Fame.
Winwood has been creating music for more than half a century, and has for decades been a leading and influential figure in the world of rock and roll, a respected and admired innovator who has had huge influence on the world of modern music. He came to fame at a very young age, scoring several hits with the Spencer Davis Group; he was a co-founder of Traffic and then joined Blind Faith, which many consider to be the first real "rock supergroup", playing with Eric Clapton and Ginger Baker from Cream
Winwood has played with many of rock's leading figures, both live and in studio sessions. These include George Harrison, David Gilmour, Billy Joel, Lou Reed, Phil Collins, Jim Capaldi, Tom Petty, Christina Aguilera, Tito Puente, Arturo Sandoval, Third World, John Mayall, James Brown, Chic, Alex Harvey, The Who, Tina Turner, Paul Weller, Jimi Hendrix, BB King, Joe Cocker, Howlin' Wolf, Blues Brothers Band to name a few.
Over the last two decades, Steve Winwood has played as a solo artiste, enjoying great success in a variety of musical genres, and to this day he is one of Great Britain's best musicians and singers with huge influence on every facet of the world of music.
Line up: Steve Winwood: vocals, guitar, keyboards – Jose Neto: guitar – Richard Bailey: drums – Edwin Sanz: percussion – Paul Booth: sax and flute
Admission by ticket
Pre-sales:
Teatro Comunale Giuseppe Verdi Viale Martelli 2 – Pordenone – Infoline: 0434 247624 biglietteria@comunalegiuseppeverdi.it
www.ticketone.it
Tuesday 18 July
Piazzale XX Settembre, Pordenone
Starts 20:15
MACY GRAY (USA) in concert · Free Entry
ONE OF THE MOST AMAZING VOICES IN THE HISTORY OF SOUL
Over a brilliant career, during which she has won a number of Grammies, Billboard, MTV and Brit awards and sold more than 25 million albums throughout the world, Macy Gray has always remained true to her art and created her own path to success, gaining fans and critical acclaim all over the world. Her music transcends different genres, from experimental soul to alternative rock, from retro-disco music to hip-hop. In spite of all this, all the awards, appreciation and huge record sales over the years have never truly reflected the breadth and depth of Macy's artistic vision.
www.macygray.com
Wednesday 19 July
Piazzale XX Settembre, Pordenone
Starts 20:30
8° Blues & Black Music Contest FVG 2017
This is a contest which offers instrumentalists, solo singers, and emerging bands of any age an opportunity to present the blues, either in its original form or as "mixed version" such as Rhythm & Blues, Rock-Blues, Soul-blues, Rock'n'Roll, Funky-Blues, Swing or Jive. In other words, any style whose roots are clearly derived from blues.
Artistic Director: Flavio Baldin
Presented by: Igor Pezzi
In case of rain: Auditorium Concordia – Via Interna, 2 – Pordenone
Info:
Email: contest@pordenonebluesfestival.it

Thursday 20 July
IN BARS AND BISTROS AROUND THE CITY
Starts 17:30
Blues on the Road
Bars, pizzerias, restaurants around the city take on a blues flavour
Once again this year, Pordenone's bars, restaurants, pizzerias and pubs come together to transform the city into a sort of Bourbon Street in New Orleans. Live music, with more than 15 shows, street musicians, dj sets, performances, all with plenty of food and drink available throughout the evenings in every corner of Pordenone
Friday 21 July
PARCO GALVANI – VIALE DANTE 33, Pordenone
Starts 10:30
4th GUITAR SHOW
Exhibition of hand-made guitars built by some of Italy's finest craftsmen, with demonstrations of the guitars on show. Special section dedicated to used instruments, where visitors can buy, sell or exchange guitars, bass-guitars, amplifiers and accessories.
Special Guest: MUD SLIDE DAN alias Daniele Gigli (Blues Ride Tour 2017)
Free admittance
Organized by Davide Pusiol
PARCO GALVANI – VIALE DANTE 33, Pordenone
℅ GALLERIA D'ARTE MODERNA E CONTEMPORANEA ARMANDO PIZZINATO
Starts 17:00
THE POP MYTH – THE ITALIAN SCENE
An exhibition of 70 paintings by Italian pop artists, none of which has ever been exhibited before.
Admittance: ordinary €3 – reduced-price €1.
PARCO GALVANI – VIALE DANTE 33, Pordenone
 Starts 17:00
6th BLUES, FOOD, WINE & MORE: GRASSROOTS MUSIC
Blues is a grassroots form of music which emanates from the soul and from the "belly". This is why we have decided to enrich the Festival by organizing public tastings of some of the delicious local produce. From the afternoon and until the stars come out, you can meet chefs, musicians and artistes of cooking, curious children, foodies, wine and beer afficionados and lovers of good music — a great way of getting to know the typical local dishes and have a drink while listening to some good music — call it a "musical wine-tasting".
The various food and drink associations and producers of typical local produce of the highest possible quality will be present at the event. And you can also buy the food and wine that you prefer!
EXHIBITION OF AMERICAN CARS AND HARLEY DAVIDSON BIKES
organized by Old School Garage – Usa Car Club and Civico 10 Cordenons.
PARCO GALVANI Main stage – VIALE DANTE 33, Pordenone
Starts 20:30
MUD SLIDE DAN (ITALY)
Mud Slide Dun (alias Daniele Gigli) has for some years been considered a maestro and innovative expert in "live looping", constantly switching between experiments in sound and the acoustic guitar. Daniele Gigli is one of the most interesting and talented musicians of our time.
Parco Galvani Main stage – Viale Dante 33, Pordenone
Starts 21:45
ANA POPOVIC (SRB)
Ana Popovic is a world-famous guitarist and singer whose on-stage presence is extraordinarily powerful. She is truly an explosive force in the world of contemporary blues.
Ana will perform at the Pordenone Blues Festival to promote her new triple album "Trilogy", three albums containing 23 tracks spanning from funk and rock/blues to jazz. The triple album is produced by Warren Riker (Lauryn Hill, Carlos Santana), Tom Hambridge (Buddy Guy) and by today's greatest jazz trombonist, composer and producer Delfeayo Marsalis, and features extraordinary guests including Joe Bonamassa and Robert Randolph.
Ana has shared the stage with artistes including B.B. King, Joe Bonamassa, Gary Clark Jr. and many others, and has received five nominations at the Blues Music Awards. All her albums have reached the Top 5 in the Billboard Blues Charts.
www.anapopovic.com
Free admittance
In case of rain: Auditorium Concordia – Via Interna, 2 – Pordenone
Saturday 22 July
San Valentino Live Park – D1
Parco San Valentino Main Stage, Pordenone
Starts 19:30
Only in case of heavy rain the concerts will take place at Palasport Forum – Via Fratelli Rosselli, 4, Pordenone
SLYDIGS (UK)
After a hugely-successful series of live concerts, and a number of excellent recordings, Slydigs are now catapulted onto the stage as opening act for The Who's world tour "The Who Hits 50". The Who have said of the band "Slydigs is one of our favourite supporting bands". Slydigs, the re-birth of rock and roll for the twenty-first century (Vents Magazine).
Dean Fairhurst: Vocals/Rhythm Guitar
Louis Menguy: Lead Guitar/Backing Vocals
Peter Fleming: Percussion
Ben Breslin: Bass/Backing Vocals
INGLORIOUS (UK) – sole show in Italy
Defined as Great Britian's best rock-blues band, Inglorious are rapidly climbing to the top of the UK charts with their latest album "Inglorious II", which came out last May. The album jumped straight to n° 7 in the charts, and within a couple of weeks got to number one.
Inglorious formed in 2014, and were soon being compared with world-famous bands such as Deep Purple and Whitesnake. Led by Nathan James, former vocalist for the Trans-Siberian Orchestra and Uli John Roth of the Scorpions,
Line up: Nathan James: vocals – Andreas Eriksson: electric guitars – Drew Lowe: guitars – Colin Parkinson: bass – Phil Beaver: drums.
MORCHEEBA (UK)
For the joy of all fans of coolest band of the 90s, Morcheeba will be back on stage at the Festival. Their music – a mix of trip hop, r&b and blues – brought them to the top of the charts, selling more than 3 million records and earning the love and respect of the public and critics alike.
Sunday 23 July
San Valentino Live Park – D2
Parco San Valentino Main Stage, Pordenone
Starts 19:30
Only in case of heavy rain the concerts will take place at Palasport Forum – Via Fratelli Rosselli, 4, Pordenone
Greg Izor & Marco Pandolfi (USA/ITA)
This exclusive duo will perform live on stage to present their latest CD — Homemade Wine — recorded in Austin (Texas) for US record company Tangle Eye Records.
Greg Izor is one of the most famous musicians on the new Austin blues circuit.
Marco Pandolfi is one of Italy's most sought-after harmonica-players and for some years has performed playing guitar and harmonica at the same time.
He has been a guest performer at a number of important festivals in the United States, and played with several of the world's most renowned blues musicians, including Paul Oscher, Richard Ray Farrell, Bill "How-n-Madd" Perry, Preston Hubbard, Harvey Brooks, Willie King, The Mannish Boys and many others.
GREG IZOR: vocals, guitar, harmonica – MARCO PANDOLFI: vocals, guitar, harmonica
www.gregizor.com – www.marcopandolfi.com
PETE BROWN & FRIENDS – THE FOURTH CREAM (UK) . sole show in Italy
One of the most extraordinary musicians whose influence has been so immense in the world of music is Peter "Pete" Ronald Brown, poet, author, record producer, poet, author, record producer and singer, whose experience spans decades.
Eric Clapton describes him as the "fourth member" of the supergroup Cream.
Pete Brown began his career as a poet in 1960, and very swiftly began to work with outstanding musicians including Jack Bruce, Ginger Baker, Mike Horovitz's New Departures, Mike Horovitz, Graham Bond, Dick Heckstall-Smith, Ian Lynn, Vivian Stanshall, Peter Green, Neal Shon and many others.
When Cream was formed in 1966, bassist Jack Bruce Brown, Pete Brown was asked to co-write with Jack Bruce, and together they wrote most of Cream's repertoire, including "I Feel Free", "White Room" and – this time together with Clapton  – "Sunshine of Your Love".
After Cream split up, Pete continued to work with Jack Bruce, and together they produced five albums. Perhaps the most famous song from this period was "Theme for an Imaginary Western".
His latest work was recorded this year, when Pete Brown wrote the words to "Novum", the latest album recorded by Procul Harum.
Here in Pordenone, Pete will perform some of his greatest songs, accompanied by Malcolm Bruce, Jack Bruce's son, on guitar and keyboards, Jeff Allen (who has played with Bonnie Tyler, Mick Tyler and Van Morrison) on the drums, John Michael McKenzie (Eurythmics, Bob Dylan, The Pretenders, Peter Green etc.) on bass, and Mohammed Nazam Siddiqi (Trevor Horn, Orphy Robinson, Tony Remy) on the guitar.
CHARLIE MUSSELWHITE (USA)
Long considered one of the world's greatest harmonica-players, Charlie Musselwhite is living proof that great music just gets better with age.
Since early 1960s, Musselwhite has continued to create innovative music, though his roots remain firmly linked to the blues.
As well as his own thirty-odd albums, he has recorded as a guest with a huge number of other artistes including Cat Stevens, Eddie Vedder, Tom Waits, Ben Harper, Bonnie Raitt, The Blind Boys of Alabama, Gov't Mule, INXS, Mickey Hart, George Thorogood and Cyndi Lauper.
Charlie has earned world-wide admiration for his style of playing, and he has received numerous awards: 33 Blues Music Awards, 11 Grammy nominations (winning a Grammy in 2014 for Best Blues Album with Ben Harper: Get Up).
In 2010, Musselwhite was inducted into the Blues Hall of Fame, and he has taken part in a huge number of documentaries and films, including "Blues Brothers 2000", "Pig Hunt", "Take me to the river", "Born in Chicago", "Sam Lay in Bluesland" and "Sweet Blues" (Mike Bloomfield).
At the age of 73, Charlie Musselwhite is considered to be one of the last living legends on the American blues scene.
Line-up:
Charlie Musselwhite – vocals and harmonica
Matt Stubbs – guitar
June Core – drums
Randy Bermudes – bass guitar